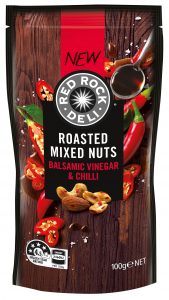 Steering away from their regular crowd pleasing chips, Red Rock Deli has launched their Glazed Mix and Roasted Mixed Nuts range.
The Red Rock Deli Roasted Mixed Nuts are roasted and coated with gourmet deli inspired flavours. The flavours include Balsamic Vinegar and Chilli, as well as Caramelised Garlic and Lemon.
The Glazed Nuts are combined with dried fruit and then lightly glazed with a sumptuous syrup. The flavours are Glazed Mix Honey, Vanilla and Cranberries, as well as Glazed Mix Cinnamon and Apple Crumble.
"We have added two more formats to our range of nuts that have been specifically crafted to deliver a delicious, indulgent snack for our consumers," Senior Brand Manager Lauren Mather said.
The range is available nationally in Coles and Woolworths, select flavours will also be available in independent supermarkets, petrol and convenience stores.