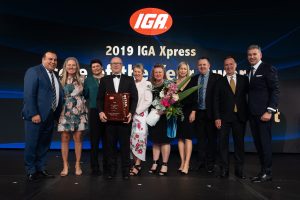 The prestigious annual IGA Awards of Excellence were held on the Gold Coast on July 15, 2019, celebrating leading IGA stores across Australia.
Celebrating the IGA stores that are integral parts of local communities, the awards also recognise store teams who regularly go above and beyond to enhance the shopping experience.
These stores are said to set the benchmark for other IGA supermarkets across the retail network.
Award winners
Fourteen outstanding stores were recognised, including IGA Xpress Store of the Year (Loveys IGA Express Hawks Nest), IGA Store of the Year (Preston Street IGA) and National Retailer of the Year (Fresh St. Market IGA).
Metcash CEO Supermarkets & Convenience, Scott Marshall and IGA National Retailer Council, Joseph Romeo, presented the awards.
"This year's winners reflect the strengths of the IGA network … [they] are a true testament to the vibrancy of the independent retail grocery industry," Mr Marshall said.
IGA Xpress Store of the Year: Loveys IGA Xpress Hawks Nest
Owned by locals, Peter Trappel and James Lovegrove, Loveys IGA Xpress in Hawks Nest, NSW is praised for holding its own with larger stores.
With a full delicatessen offering including a large range of slice-on-demand meats, speciality cheeses and fresh options, it is said to be a market leader in its class.
Supporting the local community, the store's fresh produce – said to be of the highest quality – is provided by the CO-op, direct from the markets of Sydney and Newcastle.
"[We] are really committed to raising the bar and are constantly striving to innovate and keep up to date in a fast-changing environment," said Loveys IGA Xpress Hawks Nest, co-owner, Peter Trappel.