Zarraffa's Coffee has launched its drive-through only store model in Beaudesert, Queensland in early March, set to ignite expansion plans for the specialty coffee company.
The $180 million brand will drive its future growth off the back of the nimbler drive thru only footprint that will allow future franchisees the option of a lower entry cost in owning a Zarraffa's store.
Managing Director and founder Kenton Campbell believes that the addition of a drive thru only store model will increase customer experience for those that are time poor and demand convenience, while delivering significant expansion opportunities for the 25-year-old company.
"We launched our first drive thru store back in 2009 and we haven't looked back since," Mr Campbell said. "This next iteration of our operation is designed to be built in a shorter amount of time, on a smaller footprint and combines top operating principles with a lower cost of entry, what's not to love?".
Mr Campbell said while the idea of a drive thru only concept had been on the cards for some years it wasn't until the pandemic hit that the idea gained significant ground.
"With so many distancing measures in place, our shopfronts and cafes were rendered unusable for a period of time, and we still saw incredible business growth and realised that a smaller footprint, with the right layout and equipment, could really do the job."
While each drive thru only store will be customisable to some extent, the Beaudesert store is approximately 90sqm, with 65sqm internal space.
With only a small outdoor seating capacity, Beaudesert locals will be able to enjoy the full Zarraffa's Coffee menu range, while being served by 15 new local staff members.
"We are seeing incredible interest from prospective franchisees, however the price point for a full drive thru store is getting close to $1 million to open. Our stores are significant operations and require a larger investment, but the drive thru only model is modifiable and starts from around $650,000.00," Mr Campbell said.
Locating suitable store sites is still what is dictating the pace of growth for the Aussie-owned brand.
"We are amped for growth and armed with a streamlined business model, plus a very long line of existing and potential franchisees ready to open more stores," said Mr Campbell. "While our core markets are fairly well saturated – especially southeast Queensland – there is still huge growth potential into regional Queensland, New South Wales and Western Australia," he said.
The first of its kind for Zarraffa's Coffee, the Beaudesert drive thru only store is located at 1 Oakland Way and is owned and operated by experienced franchisees Jordan Wyborn and Ashley Byers, who also run four other stores located in Toowoomba North, Redbank Plains, Greenslopes and Pacific Pines.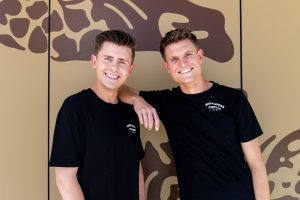 "It is such an honor and a privilege to be able to own and run the first drive thru only store in Queensland. It is so special we get to bring the newest concept from Zarraffa's Coffee to life," Ashley Byers said.
"We started this journey as two boys with a dream in Toowoomba and every day we wake up never forgetting that we not only get to achieve our dreams but get to make our team's dreams come true. This is what Zarraffa's is all about."
Zarraffa's Coffee Beaudesert is located at 1 Oakland Way, Beaudesert Queensland 4285. Opening hours are from 4:30am – 8pm, seven days a week.
For more information, visit zarraffas.com.