Jasper Coffee is stepping up their sustainability game, with the launch of Australia's first plastic-free, single use coffee cup and lid.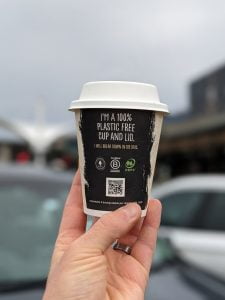 The introduction of the plastic-free coffee cup is a natural progression for the certified B Corp, Organic, Carbon Neutral and Fair Trade business.
"As an Australian-owned business, we are conscious of the fragile thin layer of soil we have on our continent and the need to keep soil healthy in order to provide healthy food for healthy people," says Founder of Jasper Coffee, Wells Trenfield.
"The quality of soil, air, water and viability of people are the essence of this sustainability."
Mr Trenfield continues: "This is why we have waited till compostable capsule material was available. This is why Jasper Coffee is first to release the plastic-free cups and lids.  This journey for us, is about re-humanising the coffee supply chain… because we have sustained our care and impacted people for 30 years in business."
Jasper Coffee set themselves the task of seeking out an alternative material that was 100% recyclable, compostable and plastic free.
The new 100% plastic-free cup and lid will decompose in domestic and industrial facilities over just 105 days.
It's also been designed to be recycled along with normal paper and cardboard waste, up to seven times before eventually making its way to landfill, bringing a whole new meaning to 'reusable'.
"Jasper Coffee has had a long-standing partnership with Aberdeen cup suppliers spanning from the mid 90s," Mr Trenfield says.
"This is a relationship where each party recognises the needs of business through reciprocal trust and honesty and sharing of the costs and rewards over the journey.
"In turn, Aberdeen has entrusted Alan Knights from Glopac of Indonesia as our cup manufacturer. This is because they integrate in the socially responsible way they treat their workers and the sustainability of the environment."
Jasper Coffee's 100% plastic-free takeaway coffee cups are launching in eight coffee shops* across Victoria and Queensland.
*The coffee shops include: The Mabel, Mitcham VIC; Coffee House 138, Maffra, VIC; Maison Maloa, Woodend, VIC; Phillipa's, Richmond, VIC; Emeraude, QLD; Port Melbourne Grocer (Go Grocer café), Port Melbourne, VIC; SUPA IGA Café, Mt Cotton, QLD; IGA on Bloomfield Café, Cleveland, QLD.