Menz FruChoc, claimed to be the number one selling choc bite in South Australia, is now available in Mango.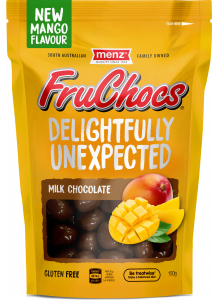 Launching in 150g packs in OTR and The FruChoc Shops just before Christmas, the new flavour will also be available to other retailers by the end of January.
Robern Menz CEO Phil Sims has tipped the new variety of milk chocolate coated "fruit tastiness" to be a festive favourite over the summer.
"What flavour is more reminiscent of Aussie holidays, barbecues and Christmastime than mango?" he said. "When looking to introduce a new FruChoc variety, the tropical fruit taste of a mango was the perfect partner to enjoy summer.
"We're thrilled to get these on shelves … and can't wait to hear what fans think."
The Menz FruChoc is said to be loved for its deliciously more-ish flavour and different varieties. The original apricot and peach FruChoc is an official state icon in South Australia, and fans have been quick to embrace the vegan, strawberry and cherry flavours that have been introduced in recent years.