Coles has opened its latest Coles Local supermarket in Sydney's Manly.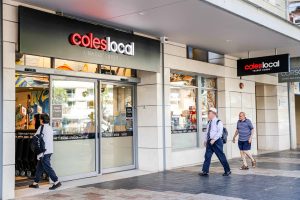 Among the store's highlights is its boutique entertainment section which is said to be tailored to Manly's laid-back beachside lifestyle. It has more than 500 local and international specialty cheeses, smoked meats, dips, antipasto, and barbecue meats from gourmet Sydney butcher Field to Fork.
The store's offering has also been designed to reflect the high proportion of busy professionals living in the area who shop more regularly than a typical Coles customer. There are more than 800 ready-to-eat meals, snacks, and salads and 200 vegetarian options designed to make dinner easier.
Coles Local Manly hasn't forgotten pets either. With Manly over-indexing on dog spending, says Coles, the store offers frozen pet food ice cream and a scoop and weigh station with canine treats like kangaroo tails and crocodile sausage bites.
Coles Chief Sustainability, Property and Export Officer Thinus Keevé says the store is part of an expansion of the popular Coles Local format in Sydney. This follows the NSW launch of the concept in Rose Bay and Chatswood earlier this year.
"Coles Local supermarkets are designed to meet the needs of local residents, offering a tailored in-store experience with high-quality foods from local bakers, butchers and food producers," says Mr Keevé.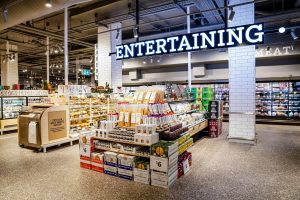 "Our new Manly store has in-store innovations that customers may not have seen before, and more than 500 foods that are perfect to enjoy at your beachside picnic or barbecue."
"Our mission is to be Australia's most sustainable supermarket, so we've implemented market-leading sustainability initiatives including trolleys made from 75% reclaimed plastic, and it's our ambition that we don't waste any edible food."
Supporting local
Coles Local Manly supports local suppliers, sourcing products directly from 35 local butchers, bakers, and cafes. This includes bagels from Sydney's "first true" artisan New York bagel maker Brooklyn Bagel Boy, restaurant-quality pasta, salads and meals from Pasta Pantry and artisan sourdough bread, muffins, and sweets from Sydney bakery Sonoma.
Supporting local artists, the new store layout features a mural from Sydney-based artist Katherine Brickman, also known as Greedy Hen, celebrating Manly's natural beauty and coastal way of life.
Supporting sustainability
Coles Local Manly "champions" sustainability, with a range of in-store innovations designed to cut food waste and reduce environmental impact.
Trolleys are claimed to be made from 75% reclaimed plastic, free recycled carry boxes are available in place of bags, unsold food that cannot be donated to food charities is diverted to organic composting and green energy generation.
Team member name tags and uniforms are also said to feature part-recycled materials.