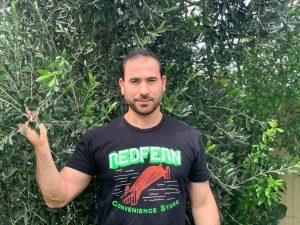 The man, the myth, the one that's putting a stop to toilet paper hoarding!
Hazem Sedda, owner of Redfern Convenience Store, inner Sydney has implemented new costs to toilet paper to refrain people from over-buying.
If you step into the Redfern store you will see that one pack of toilet paper is $3.50, but two packs of toilet paper is $99.
"With everything that is going on in regard to COVID-19, people are panic buying which is causing other people to be short on essentials," Mr Sedda told Convenience World magazine.
"At the beginning I had a standard process of one per customer but that was neglected, so I came up with this idea, as it would have been more effective and efficient.
"We are not trying to reap extra profits by this, but rather, we are trying to stop the unacceptable behaviour."
Mr Sedda says that no one is yet to accept the two pack offer, "however I wouldn't let them either way".
Despite the hardships that the industry is facing right now, Mr Sedda remains positive.
"It's my passion to provide the best service and products for my customers. I received heaps of calls from a lot of people to thank me, and I felt proud that I could provide some help to those who needed it."
"Some told me that I am a true Australian, standing side by side to support those who need the support. Although I am originally from Palestinian, I am a proud Australian too and I welcome everyone from any race, colour, religion and gender."
Mr Sedda urges other store owners to remain confident in their actions, as it will have an impact on customer confidence in the store.
"… implement any health changes needed to enhance overall sanity. Show your customers that you're confident and calm when approaching them as your attitude reflects on their perspective.
"I would also encourage [other store owners] to keep up with the news and be up to date with what's happening so they are prepared."