Western Australia is the home to 7-Eleven Australia's 700th store.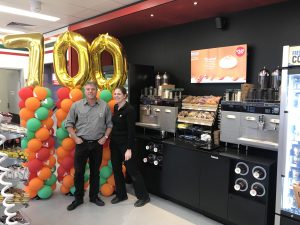 Located in the suburb of Banksia Grove, the new store – which opened last week – marks the 38th for the state. Shoppers will be able to grab their favourite products and fill up at any time with the store operating 24 hours a day, 365 days a year.
According to General Manager Retail Operations Braeden Lord, Western Australia locals have welcomed the company as consumers, as an employer and as a member of the local community.
"The response we've had to the entry in the Western Australian market has been fantastic," he said.
"Our coffee and food offer has proven really popular. We're excited to see lots of people choosing 7-Eleven as their regular coffee stop. We have sold up to 400 cups of coffee per store per day in the last few weeks, and this continues to grow.
"We're also helping customers get into the habit of minimising single use cup waste. Consumers can try our coffee for free during August if they bring in a reusable cup.
"[In addition,] West Australians have been great supporters of the 7-Eleven Fuel app. The app lets them lock in the fuel price when it suits them and redeem it within the next seven days at any store in the country. Since January 2017, West Australians have redeemed more than 195,000 fuel lock vouchers, with an average 14c per litre discount and $5.13 overall saving per fill."
"We're proud of our great looking sites and product offer, and we're focused on continuing to delight our customers as our network grows. However, it's the Western Australian residents who have joined us as leaders, team members, and franchisees who have made such a huge contribution to our collective success."
'Exceptional' service and standards
Mr Lord says the service and standards the Western Australian teams deliver is "exceptional".
"Currently we have 400 team members across our store network and support functions," he said.
"I'm really proud that over 20 of our 45 corporate store managers have their current role due to internal promotions. The growth of our business is leading to some great career opportunities for our people in WA. Seeing people have the chance to take the opportunities available to progress their careers thanks to their hard work and talent is really exciting."
Looking to the future in WA
The company plans to steadily grow market share through building sales in existing stores and adding strong new sites to the network.
7-Eleven hopes to open approximately 10-15 new stores in Western Australia over the next two years alone.
"We have ongoing opportunities for great people to join our WA team," Mr Lord said.
"I'd love to continue to see lots of West Australians building careers as part of our business.
"My team are also keen to continue to speak to landlords and developers about fuel and non-fuel sites in Western Australia. We are interested in sites with good access and customer traffic that might be suitable for us to expand our offer into new communities."