As the weather gets cooler, the leaves start to fall and the aroma of open fireplaces wafts through the air, one hearty winter warmer that brings comfort is the humble pie.
Convenience World delves into the world of the pie and finds out how the old family favourite has evolved and how retailers can make it a best-selling standout this winter.
"We're proud to say that baking's in our DNA," says Patties Foods General Manager Marketing and Innovation Anand Surujpal. "We've been making mouth-watering pies for more than 50 years, and every year since, our products have become even tastier and more innovative."
"Pies are a real comfort food," continues Mr Surujpal. "They warm you up, they're filling, and they evoke fond memories." Not only that, he adds, they're also "readily available" and an easy option for a "meal or satisfying snack at any time".
"Four'N Twenty is the branded market leader for hot, on-the-go savoury options within the convenience sector," he says, and are "helping to drive the growth of the segment".
Evolution of the pie

As tastes and trends change and evolve – one being the plant-based or vegan health movement – to stay competitive, Patties is "always looking for new and innovative ways to make sure [we have] something for everyone", says Mr Surujpal.
"[Also], the new Ruffie Rustic Foods range includes three vegetarian meals, ensuring we're delivering innovation to suit a range of dietary and lifestyle preferences."
"Patties Foods has a wide range of product offerings across the frozen category, including Four'N Twenty, Herbert Adams, Boscastle, Patties Savoury Finger Food, Ruffie Rustic Foods, and Nanna's, to satisfy all customers," says Mr Surujpal.
Pies for all occasions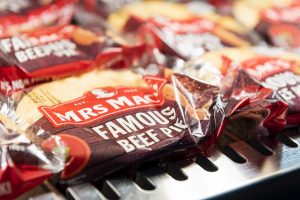 Mrs Mac's Brand Manager Sam Tomeo echoes the sentiment that pies are just what consumers are looking for in winter, offering warmth, comfort, hearty options and possibly a trip down memory lane.
"Whether it's a pie or a sausage roll on the go with a hot coffee, or a chunky beef pie served with mash and gravy for the family on a cold winter's night, consumers are looking for warm, comforting and hearty options in winter, and pies are exactly that," he says.
Adapting to the times

In response to the COVID-19 outbreak, Mrs Mac's has not only sought to meet the spiking demand for frozen products, but also ensured support for "Australian jobs and communities", he adds.
"Mrs Mac's is an Australian-owned company that has supported local communities for more than 60 years," says Mr Tomeo said.
"All our beef is 100% Australian and we use fresh vegetables from local producers wherever possible.
"Because of our commitment to source ingredients locally, this gives retailers the opportunity to partner with Mrs Mac's in supporting Australian jobs and communities impacted by COVID-19."
To read the full story as it appears in the May/June issue of Convenience World magazine, click here.