This year marks the 100th anniversary of the world's largest food and beverage trade fair, Anuga.
The first Anuga took place in Stuttgart in 1919. It was a small-scale samples show in which around 200 exclusively German companies took part.
Today, with 7,405 exhibitors and some 165,000 trade visitors from around the world, Anuga is the leading industry get-together of the international food and beverage industry.
From October 5-9 in Cologne, Anuga's centenary event will again present just about everything that is important for the international trade audience.
With Anuga boasting 10 trade shows and 11 trend themes, attendees will find all innovations, the latest trends and interesting facts about the future of the food industry under one roof.
Anuga offers a targeted selection of specialised and trend themes for all needs and every target market. Its 10 trade shows are Fine Food, Drinks, Chilled & Fresh Food, Meat, Frozen Food, Dairy, Bread & Bakery, Hot Beverages, Organic, and Culinary Concepts.
'The most important buying and network platform'
Anne Schumacher is Vice President Food and Food Technology at Koelnmesse, the organisers of Anuga.
She says no other platform has succeeded in providing so much space for new food trends, inspiration and impulses, as well as for specifically orientated future themes and in guaranteeing a continual exchange between the industry participants.
"This is what turns Anuga into the most important buying and network platform for all nationally and internationally significant food wholesalers and retailers, as well as for bulk consumers from the out-of-home and food service sectors," she said.
Reflection and looking to the future
This year's 100th anniversary event will reflect on past achievements and also look to the future of the food and beverage industries.
"Surveys show that in a few years over 10 billion people will be living on earth," Ms Schumacher said. "The key question is, how can all of these people be fed?
"Trade visitors can inform themselves about the visions and solutions for the next 50 years on all days of the trade fair and engage in an active exchange with industry pioneers and experts."
More event highlights
Another highlight of the event includes the Anuga Trend Zone. Here, a team of experts from Innova Market Insights and Euromonitor will present analyses on the latest developments in the food and beverage industry.
A further highlight is the Anuga Taste Innovation Show, which will showcase the industry's top innovations.
"Anuga offers inspiration and networking at the highest level, brings people and markets together and succeeds in covering the global market of food in one location," Ms Schumacher said.
"We're looking forward to welcoming countless visitors from all over the globe at Anuga in Cologne."
New representative of Koelnmesse in Australia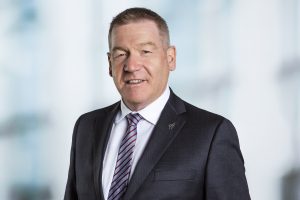 Robert Laing has been representing Koelnmesse in New Zealand for 30 years. Since the beginning of 2019, he is now offering the same knowledge and experience to Australian businesses
"There are a lot of choices of food shows around the world each claiming to be bigger and brighter than the others," Mr Laing said.
"What Australian companies need is help to cut through the hyperbole and identify what is really the best place for them.
"Koelnmesse is so committed to assisting food and food technology companies around the world to do this. They have a network of 80 representatives actively offering this assistance in their respective local markets."