Shapes has launched a new range, Fully Loaded, that is promoted as truly living up to its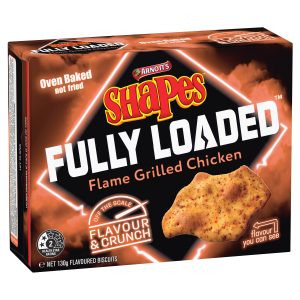 name.
"Burst[ing] with flavour and crunch in every bite", the Shapes Fully Loaded range is available in the flavours of Sizzling Meatlovers, Flame Grilled Chicken, and Ultimate Cheese.
"We're excited to launch our most off-the-scale, flavoursome and crunchy Shapes range with Fully Loaded," says Shapes Brand Manager Alice Johnson. "These new textures and flavours are epic and unique additions to the Shapes offering, and we know you will love crunching them as much as we do!"
The Fully Loaded range has a RRP of $3.50.