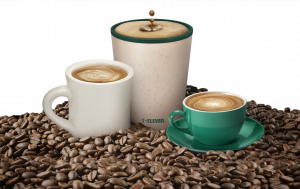 7-Eleven's nationwide 28-day free coffee initiative aims to encourage the reduction of single-use cups by incentivising coffee lovers to commit to reusable cups. The initiative launched August 6 and runs until September 2.
"At 7-Eleven, we're proud of our efforts in revolutionising the recycling of single use paper cups in Australia," 7-Eleven Chief Executive Officer Angus McKay said.
"A great alternative to single cups is bringing your own reusable cup. Less than one per cent of 7-Eleven coffee customers are currently bringing reusable cups, and we'd like that number to increase."
Simply Cups
7-Eleven partnered with 'Simply Cups' in 2018, launching a recycling revolution – the aim was to rescue 70m takeaway cups from landfill.
Reportedly, over the past 12 months more than 1.6m cups were collected through 7-Eleven recycling units.
Free coffee initiative
Enjoy a free cup of coffee at one of Australia's largest coffee retailers by bringing in a reusable coffee cup, a favourite mug or by purchasing a 7-Eleven rCup at 7-Eleven stores Australia-wide from now until September 2, 2019.