Paddle Pop is re-releasing Paddle Pop Caramel Choc for a limited time, 30 years since its debut.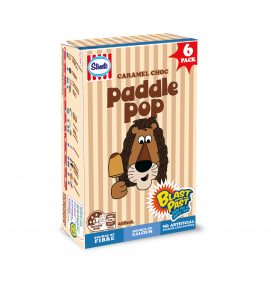 According to Paddle Pop, fans of Caramel Choc will still recognise the "memorable caramel-flavoured layer on the outside and refreshing chocolate flavour at the treat's core", from when it was first released in 1989.
In addition to this, Paddle Pop says fans will be happy to see the nostalgic Paddle Pop lion who has graced the Paddle Pop wrappers, boxes and television ads since 1953.
"We're so pleased to announce the return of the Caramel Choc, fondly remembered by those growing up in the 80s and 90s," Brand Manager Samantha Jarmul said. "Now they have the chance to enjoy their childhood memory of caramel goodness with their own children, and it tastes just as great."
Caramel Choc Paddle Pop is available in single serve (RRP $1.70) and multipacks of six (RRP $5) and can be purchased for a limited time at Coles and most convenience stores nationwide.