OTR's 25,000th customer has chosen the Royal Flying Doctor Service (RFDS) for a $25,000 donation via OTRGive.
The OTRGive program sees OTR donate a percentage of customer sales to more than 30 great causes. In less than a year, it has generated more than $107,000 in donations to South-Australian community groups.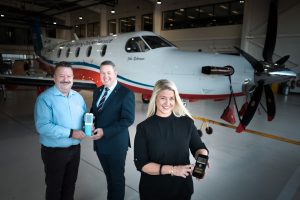 The 25,000th customer, Mandy Corrie (right), chose the RFDS for a special one-off donation of $25,000 from OTR.
"We recently had an incident in Mannum where my son Caylen, 9, needed urgent medical attention," she said.
"It made me step back and think about remote areas of Australia, and what happens when people there need critical medical help. That really resonated with me.
"I think the RFDS offers an incredible service to help so many people. It's amazing that OTR donated the $25,000 on my behalf."
Happy 91st birthday
The $25,000 cheque was presented to RFDS Central Operations CEO Tony Vaughan, ASM, on RFDS's 91st birthday on May 15.
"The RFDS relies on bequests, sponsorships and donations from the community to meet the shortfall in our operational funding," he said.
"That's why community initiatives such as OTRGive are so important to the RFDS. To help keep our crews in the air for the thousands of patients we assist every year."
'Making a difference'
OTR CEO Warren Wilmot says OTR's regional presence makes it sensitive to the needs of Australians in remoter regions.
"We personally chose RFDS as one of the community groups because we have 35 regional OTR stores across the state," he said. "It's important to us that our staff and customers in country areas have access to life-saving medical services.
"OTRGive is such an important initiative that is helping community groups across South Australia receive much-needed funds to continue their incredible work.
"We encourage our OTR customers to join our 25,000th customer, Mandy Corrie, in linking to the OTRGive program via the OTR app so that we can keep growing donations.
"It's our goal to contribute as much as possible so that this uncapped program can continue making a real difference to the community."