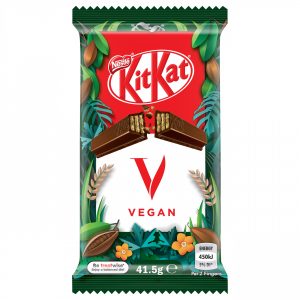 Plant-based lovers, brace yourselves as Nestlé's new vegan KitKat will arrive in Australia this July.
KitKat V will feature "smooth chocolate blended with a rice-based alternative to milk that beautifully balances the crisp wafer".
"Our challenge when we set out to create a vegan-friendly KitKat was to recreate this iconic product using plant-based alternatives," Head of the Nestlé Confectionery Product Technology Center in York, Louise Barrett says.
"To achieve this, we worked very hard to get the right balance between the milk alternative and the coca. The result is a vegan chocolate that we're very proud of, and I hope all KitKat fans will love it as much as we do."
Nestlé's Head of Marketing, Joyce Tan adds: "We've seen so much excitement and anticipation from our fans when plans for the first vegan KitKat were announced earlier this year, so I'm thrilled to share that KitKat V will be coming to Australia!
"We're always looking for ways to make breaks meaningful for Aussies, so the team at KitKat is delighted to offer a delicious alternative for anyone looking to enjoy a plant-based break."
KitKat V adds to Nestlé's collection of plant-based alternatives such as Nescafé Gold coffee mixes, plant-based MILO and Plant-based Condensed Milk alternative.
The vegan chocolate will be available for pre-order from the KitKat Chocolatory website as of today, and available nationally instore from 26 July at the KitKat Chocolatory and Woolworths Metro for an RRP of $2.00.