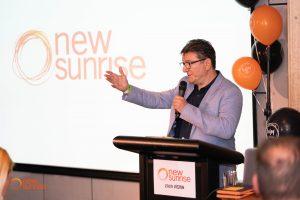 Over 100 supplier partners attended the New Sunrise 2019 Business Forum last week, where the group delivered its exciting direction for 2020 and beyond.
Held in Sydney on November 27, the event capped off what has been a highly successful year for the group.
The New Sunrise leadership team shared an overview of the current landscape of its retail network and mapped out its strategic framework that will lead the company into the next decade.
"It's been a big year for New Sunrise," New Sunrise Managing Director Steve Cardinale said.
"Our continued focus on our fundamental strategy ensures we are anchored to our retailers' needs, the consumer and the category. With key pillars and enablers supporting our vision, we have unlocked significant growth in our network in 2019."
This year saw a number of firsts for New Sunrise, he added, noting the group broke $1 billion in retail sales and has more than 100 suppliers, providing competitive advantage to independents.
"We have a great team who take ownership and accountability. We value true partnerships with suppliers and operate to unlock growth via our pillars of mutuality, visibility and execution."
Independent innovators
Mr Cardinale went on to praise independent retailers, calling them the "innovators of this industry".
"They are the first to find better, faster and more exciting ways to connect with their local customers," he said. "In times of crisis, they are the often the first to open and the last to close. They play a critical role in their local communities. As a channel, it is imperative that we work together to support them and the difference they make."
Areas of opportunity
In addition to outlining the key areas of success, Mr Cardinale shared his view on the headroom of opportunity that exists.
"Conversion from pump to shop is still a fundamental issue in this channel," he said. "Whilst it has increased from my early years in the industry, modern day convenience stores can still be seen as 'inconvenient' and irrelevant to over 4 million people who walk out empty handed from petrol stations across Australia every day. These people chose to go somewhere else to eat, drink or 'top up' shop. Each of us, gathered in this room have a role to play."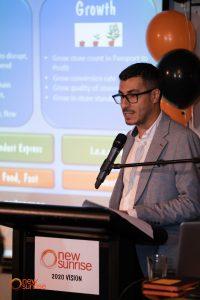 Modern-day merchandising
New Sunrise National Merchandise Manager Joseph Alessi followed on from Mr Cardinale. He outlined the group's 2019 financial results, showing solid growth and world-class activation across the retail network.
"Our five key merchandise growth drivers underpin the program, and create excitement and delight the modern-day convenience customer," he said. "We are prepared to try something new; we are prepared to commit and we are prepared to lead."
Mr Alessi says New Sunrise has an "insatiable appetite" to continue to work for its retail members.
"We know that one size does not fit all, with bespoke activations and understanding diverse customer strategy the key to growth," he said.
"Our people have a relentless and intense passion for our retail members. We have a clear vision and an unwavering strategy, which underpins how we do business".
Thanking business partners
The business forum concluded with a luncheon, to thank key business partners for their contribution to New Sunrise retailers over the last 12 months. The event was attended by 110 of the industry's top manufacturers, suppliers and distributors.