Fine Food Australia named its best New Retail Products this week.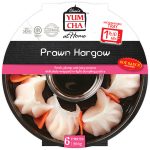 The triumphant products were Chan's Yum Cha at Home Prawn Hargow (top) and Vegetarian Shiitake Dumplings by Tasman Foods (bottom).
Retail World and Convenience World Editor Hailey Settineri judged the award. She said each winning product shows the brand being able to retain the quality and authenticity of its heritage, while also evolving to meet consumer needs – particularly the need for convenience.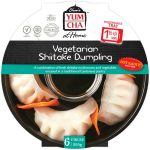 "Each pack of Chan's Yum Cha at Home chilled convenience meals comprises six handmade dumplings in a microwaveable tray," Ms Settineri said. "These can be heated and ready to eat in just one and a half minutes.
"The launch sees the brand move from the freezer aisle to the chilled shelves in supermarkets. This is a move that required the brand to adapt its recipe and packaging to meet the different needs of this segment, including shelf life and visual appeal."
Businesses entered more than 200 products into the retail category for the Best New Product Awards.
The two runners-up were Sugar Free-zies by the No Nasties Icicle Project and Amaze Balls by Ashgrove Tasmanian Farm.
Sugar-Freezies are Australia's first sugar-free and all-natural icy stix, providing a healthier option for kids. Amaze Balls are an all-natural 100 per cent cheese snack made from Tasmanian-produced cheddar and havarti.
Fine Food Australia celebrates new product innovation
Each year, the Best New Product Awards at Fine Food Australia recognise the most outstanding products to have launched in the food industry in the past 12 months. The award categories are: retail, Australian made, foodservice, hospitality equipment and bakery.
With final entries totalling over 400 by the time the awards began, the 2018 awards were particularly difficult to judge. The variety of products on show is testament to the diversity of businesses within Australia's incredible food industry. From on-trend Acai bowl mix to a slow-release system designed to control airborne bacteria, mould and pathogens, the list of entries was truly impressive.
Host of the awards, Event Director Minnie Constan, commented, "This year, we've seen key trends such as health, sustainability and technology – including robotics – reflected in the new products entered. Although there can only be a handful of winners, these awards are a great showcase of all that is ground-breaking and innovative in our industry."
Other winners of the 2018 Best New Product Awards
Best New Foodservice Product: Native Fruit Extracts by Australian Superfood Co.
Runners-up:  Anchor UHT Whipping Cream 12x1L by Fonterra Foodservice; Blue Fetta by The Riverina Dairy.
Best New Hospitality Equipment Product: ShowLab by Florentia.
Runners-up:  UC-M I Excellence by Winterhalter; ActiveCore TME1000-A by SKOPE Industries Limited.
Best New Bakery Product: Nuovair Professional Blast Chillers by La Nuovagel.
Runners-up:  Salva Iverpan FCX20 Retarder by Vanrooy Machinery; Softgrain Sprouted Rye by Puratos Australia-New Zealand.
Best New Australian Made Product: Hum Honey Cold Fusion by Hum Honey.
Runners-up:  The Good Seed Coconut Kefir by The Good Seed; Temptag Pro by Barista Supplies.