British brand Dash Water is launching its "wonky fruit" infused sparkling waters into 1500 Australian stores this month.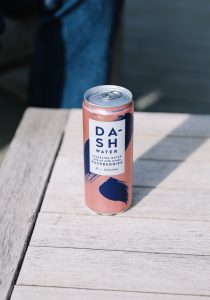 The company says it has built a reputation as the UK's go-to healthy sparkling drink made with three simple ingredients: water, bubbles, and wonky fruit, containing no sugar, sweetener or calories.
Dash Water is committed to reducing food waste by accepting produce "misfits", fruit and vegetables that are wonky, bent, curved, knobbly, misshapen, and imperfect, but delicious.
The London-based business has secured a nationwide listing with 700 Woolworths stores, as well as placement on the shelves of 800 independent retailers across the country.
The Australian expansion marks the first time Dash has been produced locally outside of the UK. The brand's recyclable cans are manufactured in Victoria, while the product itself is created using Australian spring water.
Dash Water project to sell 1.5 million cans in Australia by the completion of its first full year of trading in 2021. The company's expansion into the wider APEC region is also well underway, with Dash Water already confirming listings with New Zealand and Singapore.
Behind Dash Water
Created by Jack Scott and Alex Wright in 2017, Dash Water earned the London duo a spot on the Forbes 30 Under 30 list.
The idea for the company came through the pair's shared farming backgrounds, where they saw produce that didn't hit the "beauty standard" going to waste.
Mr Scott says Dash Water has noticed that the Australian market is backing the seltzer category in a similar way to the US and UK.
"Many independent retailers, and Australian supermarkets, are focused on sustainable practices that align with our values as a B-Corporation," he says.
"We wanted to bring a fresh perspective to the market by continuing to infuse local spring water with delicious wonky fruit, just as we do in the UK.
"Expanding Dash in Australia gives us the opportunity to expand the business and enter into new and exciting markets."
Dash Water is available in sparkling peach, lemon, raspberry, and cucumber and comes in 4 x 300ml cans (RRP $8).