After a tumultuous 12 months for Australian coffee roasters as Covid-19 lockdowns impacted city cafes and caused volatility in consumption patterns, roasters need to come to grips with the even greater challenges affecting coffee supply heading into 2022.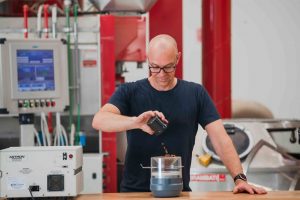 By WKSHOP Head Roaster Paul Golding.
The crop year price pressure
Climate impact on the coffee harvest has been an issue for some years.
A general warming trend has allowed pests to creep higher and infest zones previously out of their reach. Warmer air and unseasonal rainfall also encourage fungus and mould growth, damaging both plants and fruit.
Last year, severe hurricanes damaged crops in Honduras and Guatemala, while frost may have had a negative impact on the Brazilian harvest. Most origins rely on a mobile population of seasonal harvest workers to pick coffee. Pandemic movement restrictions have seriously affected the ability of workers to reach farms, creating problems in bringing the crop to market in countries such as India, Indonesia and Costa Rica, where reliance on itinerant harvesters is heavy. Other producing nations, where smallholder farming means coffee is often picked by the family, have been less affected at farm level, although processing mills have still encountered problems attaining full staff levels.
The International Coffee Organisation reports that global coffee production increased by only 0.4 per cent in the last crop year, lagging well behind the global coffee consumption increase of 1.9 per cent. The variance means a tightening of supply and corresponding upward pressure on prices. The announcement of frost in Brazil during July accelerated this trend, with the ICO composite indicator, and average of global coffee pricing, now residing at US$1.70 per pound for commercial quality green coffee, up from USD$1.05 per pound in October 2020.
If 65 US cents per pound doesn't sound like a serious jump in pricing, consider that this translates to an increase of $1.93 per kilo in Australian dollars at the current rate of exchange. That's a giant leap, particularly to roasters and cafe owners already existing on fine margins in an intensely competitive market.
Read the article in full in the latest issue of Convenience World.