Cadbury is featuring four female athletes on its Cadbury Dairy Milk block to increase the visibility of women in sport and to inspire the next generation to see what they can be.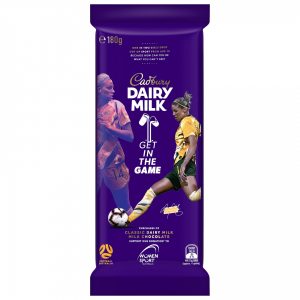 Now in its second year, the Women in Sport initiative is part of Cadbury's ongoing commitment to support the continued growth and equality of women's sports in Australia. Cadbury says it's utilising its famous purple packaging to showcase and present four female role models across the country.
The Cadbury ambassadors featured on pack include Richmond Football Club's Akec Makur Chuot, Commonwealth Bank Matildas' Alanna Kennedy, Sydney Roosters' Jessica Sergis and Australian Young Cricketer of the Year Tayla Vlaeminck.
With one in two girls dropping out of sports by the age of 15, Cadbury says it wants to increase the visibility of female athletes and put these inspirational role models front and centre in households across Australia.
"We believe that sport should be enjoyed by all, which is why we're committed to increasing the visibility of women's sport and supporting the next generation to realise what's possible," says Mondelēz International Marketing Manager – Equity and Sponsorships Jessica Finger.
"For the first time in our history, we're also proud to be using our most iconic chocolate block to profile four trailblazing female athletes and their achievements – for all Australians to see."
Further initiatives
Going even further, Cadbury is giving Aussies the chance to win tickets to women's sporting matches across the country. The initiative enables Australians to take a girl to a game in the future.
From 1 September to 28 November 2021, people can register their Cadbury Dairy Milk pack online to go in the running to win tickets from various sporting codes. These tickets will enable opportunities for girls to see exemplary role models in action and demonstrate what is possible.
This year, Cadbury has also partnered with Women Sport Australia (WSA), a volunteer-led national advocacy body created to lead positive change for women and girls in Australian sports.
The WSA is now partnering with Cadbury to support and shape the next 12 months of the program – with an "exciting announcement" coming in October – to ensure the initiative reaches and inspires as many girls as possible.
"While Australia has made significant progress in improving female representation in professional sport, there is still more work that needs to be done," says WSA President Gen Simmons.
"We are thrilled to be partnering with Cadbury and can't wait to work together to support females in sport."