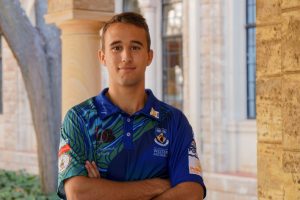 BP Australia has awarded $5,000 scholarships to two promising indigenous student-athletes, Jasper John (right) and Asha Steer, through its UniSport partnership.
The awards took place at the UniSport Australia gala dinner in Melbourne last week.
On top of the financial assistance, BP Australia says it will also offer the recipients mentoring and professional-development opportunities.
About the recipients
Jasper John is a Nyikina man from the Kimberley region of WA, who has relocated to Perth to study.
Asha Steer is a Barkajindi woman currently studying at the University of Melbourne.
HR Director BP ANZ Richard Swyny says BP is "honoured" to be supporting young, talented, indigenous students.
"We established our partnership with UniSport and designed this scholarship programme to connect with indigenous students, support the next generation of talented individuals, and to demonstrate our commitment to building a diverse workforce across Australia," he said.
"We're thrilled with the response we had to the scholarship programme in its first year. We thank everyone who applied and wish all the students the best for the future."
Ms Asha Steer (pictured, with BP Australia Resourcing Manager Lauren Barlow) said: "This means a lot to me. Not only for the generous financial award, but also for the recognition of my sport and the opportunity to represent Aboriginal people in such an influential way."
The BP-UniSport partnership
The scholarship programme is one component of BP Australia's new partnership with UniSport Australia. Next month, the University of Western Australia in Perth will host the 2019 Indigenous Nationals from 23 to 27 June.
According to BP, "The Indigenous Nationals not only celebrate the rich sporting culture of indigenous Australia, but also the heritage and history of the participating student-athletes."