Whittaker's has partnered with fellow New Zealand brand, Pic's Peanut Butter, to launch a Peanut Butter & Jelly chocolate block.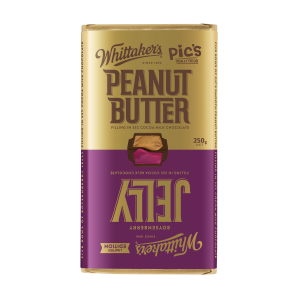 Encased in Whittaker's "super smooth" 33% cocoa milk chocolate, the product features "salty, smooth" peanut butter at one end, and a "tart, fruity" boysenberry jelly at the other.
"Whittaker's chocolate lovers can enjoy the delicious taste of either the peanut butter or boysenberry jelly filled pieces or stack them together to make their own peanut butter and jelly 'sandwich'," says Whittaker's co-CEO Holly Whittaker.
"With different flavours at each end of the block, there's a fun element of discovery for those who like both of the flavours or the combination of them together, or for sharing between people who have different flavour preferences."
Like all Whittaker's chocolate, the Peanut Butter & Jelly block is promoted as being made from "beans-to-bar" at Whittaker's factory in Porirua, New Zealand, and is also Rainforest Alliance Certified.
In addition, the company says it's proud to be sourcing the key ingredients for the fillings locally as well.
"As a New Zealand chocolate maker, we're thrilled to support local by using delicious peanut butter made by our friends at Pic's in Nelson," says Ms Whittaker.
"The jelly filling is also connected to the region, using a fresh boysenberry juice concentrate with fruit grown in the warm Nelson sunshine. It means our Peanut Butter & Jelly block really is a distinctively Kiwi take on this classic flavour."
Whittaker's Peanut Butter & Jelly block will be available in Coles, Woolworths and Big W stores nationwide by 11 October.